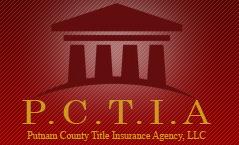 3564 Teays Valley Road, Hurricane, WV 25526
Phone (304) 397-4103 Fax (304) 397-4104
Real Estate Quick Facts
Classes of property
Class 1: Intangible property, products and agricultural equipment
Class 2: Owner occupied residential property and agricultural land
Class 3: Commercial property and personal vehicles in un-incorporated areas
Class 4: Commercial property and personal vehicles in incorporated areas
P.C.T.I.A has access to numerous approved attorneys throughout the State of West Virginia. We can coordinate title insurance and closing services within or outside your marketing area.
What is Lenders Insurance?
Sometimes referred to as a loan policy, it is issued to mortgage lenders. It follows the assignment of the mortgage loan, meaning that the policy benefits the purchaser of the loan if the loan is sold. For these reasons, these policies greatly facilitate the sale of mortgages into the secondary market. This market is high volume, with purchasers like Fannie Mae and the Federal Home Loan Mortgage Corporation.
The American Land Title Association, ALTA, has forms that are used throughout the country, although sometimes modified in different areas. Basic elements of the insurance they provide to the lender include some of the following title losses: title on the property is not in the loan borrower; the title is subject to defects, liens or encumbrances; unmarketable titles; land with no right of access; invalid or unenforceable liens; the lien is not prior to any other liens on the property; and other problems...
Lenders Title Insurance protects the lending institution or owner of the mortgage, not the homeowner or person paying the mortgage.
Understanding Lenders
Title Insurance